9/17/2015 - I edited this commercial so it was as I remember it as a child.
---
9/2/2015 - I've got bee-otch mugs for sale. Click the image beelow. You might need to hit a "view mature content."

---
8/10/2015 - You can drag my art to school with you. Check out my latest redbubble offering:

---
6/13/2015 - I have a portfolio page now, just like a real artist. Check it
---
3/27/2015 - You know what you need? You need my Cthulhu Republic designs on a shirt or hoodie. Cafepress.com makes them and they are nice and beefy. Go buy one already!

---
3/27/2015 - Buttons!

---
3/19/2015 - I'm taking a deep breath, and getting ready to get back on with my life. We took 1207 submitted films and selected 35 shorts and 2 features for the next Bonebat Comedy of Horrors Film festival. I will resume cartooning next week. In the mean time, check out some wonderful stop motion animation that is FAR too sweet for my film festival.
---
3/4/2015 - Tickets are on sale now!

---
2/21/2015 - The latest BoneBat Show podcast is great. Check out episode 127. Seriously. check it out. It's got music by Illbotz and everything!

---
1/26/2015 - Gotta level with you. There might not be a toon this week. I've got a million and sixty movies to watch for the film fest, and I've been working on a tattoo design. So here's a little something to look at - art for film fest kickstarter supporters.

---
1/8/2015 -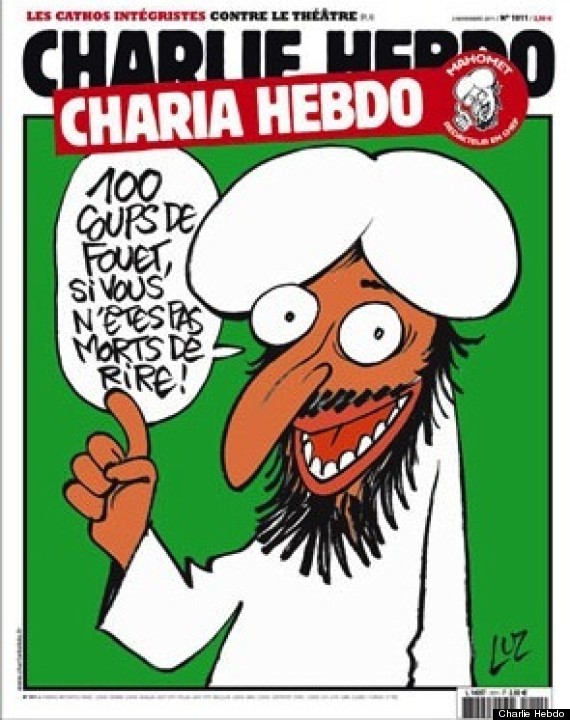 I don't speak french, and what I understand of these cartoons isn't very funny. If it wasn't for the religious extremists, I wouldn't be posting this. But every time a person sees the cartoons, and every time a person reposts the cartoons, those evil bastards's failure multiplies.
---
1/7/2015 - What's the difference between a Muslim extremist and a bucket of shit? The bucket.

---
11/24/2014 - HOE! LEE! SHEET! The Comedy of Horrors Film fest is BACK and out Kickstarter is live!! Check out our kickstarter page, and watch the video to witness my complicated relationship with coke.
click my picture - >

---
9/10/2014 - I made this this morning. It didn't help.

---
8/21/2014 - A new album by Beefy just thumped down from above. I've been digging the tribute to the Lannister clan - Hear Me Roar. Check it out.

---
7/31/2014 - I know I've been all but absent here on the front of this lovely site. Sorry. I pipe up over on facebook and of course on the BoneBat Show. But lately, I've been working on some new ideas. Maybe a new comic strip.
---
7/2/2014 - Wanna see something weird?

A mall was built, but it wasn't up to code. So it was emptied. A fire burned the roof off, then the rain came and the lower level of the mall became a mosquito filled pool. To combat the mosquitoes, locals put fish in the mall. Now there are a bunch of fish swimming around the escalators.

Check it out
---
5/31/2014 - My friend found himself with needing a very specific "thank you" present.

Fact: Hallmark doesn't make a "Thank You" card for a metal-head named "Dave" who helps you out with your kid's production of Annie.

Fact: I can be commissioned / bribed to fill the void left by Hallmark. Check it out -


---
5/14/2014 - Spurious correlations! Everyone who ate carrots on December 16, 1776 DIED!! Data can make your point, no materr how stupid your point is. Data: if you can't fabricate it, correlate it.
Check it out.
---
4/30/2014 - This totally happened. So now I can get back the regular business of cartooning


---